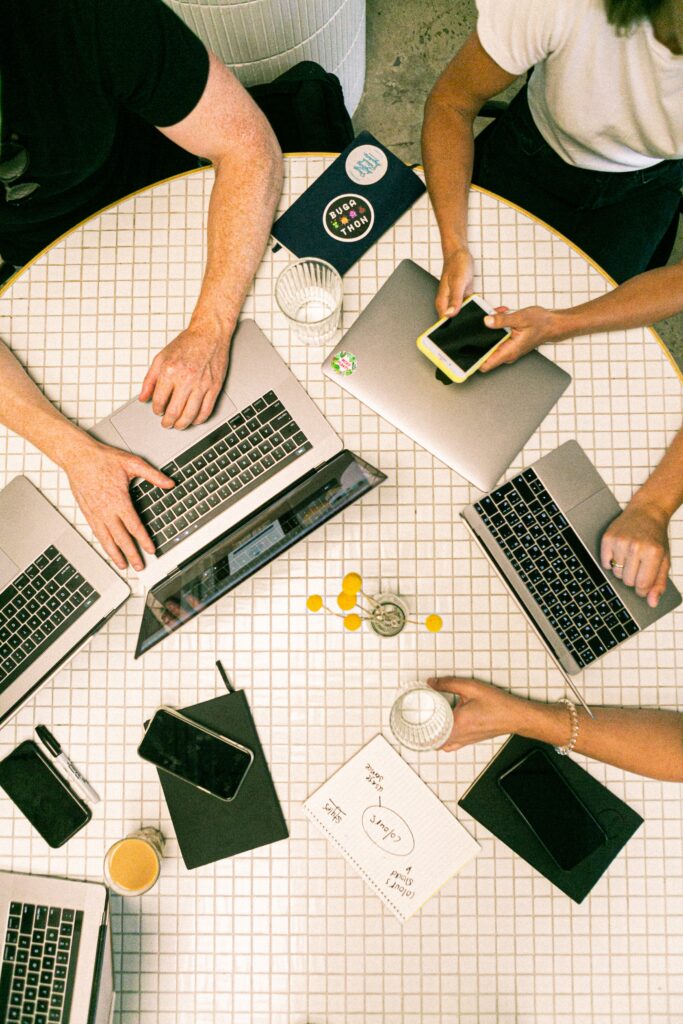 For us, it is never why us? It is, try us!
We create, build and help flourish businesses. We don't call ourselves a communications agency, we call ourselves creative partners. N Square has a team of experts dedicated to the task they do. We work out of home, but that does not mean we do not know how to build businesses and help them adapt to the ever-changing trends.
IIf you are struggling with your brand assets or want to start a business but don't know how to, you are in the right place. Get in touch with us now so we can start figuring your brand advantage right away!
Empowering business through technology eCommerce Consultancy
Book your consultancy session and hop on a call with us. We will help you turn your idea into business within no time. Web Design & Development
If you are confused about whether you want a website or not, which one is suitable for you, or how to go about the process – we offer free consultancy and the health-check of existing websites to everyone. Managed Hosting Services
We know the world of hosting, domains, and servers aren't easy to understand, especially if you are new to them. Hence, we are offering all of the services together in multiple packages to make it easy for you.


Don't miss our neet
FREE CONSULTATION
We love supporting small businesses hence we take some projects for FREE. From consultation to upgrades, branding insights to web strategy, it can be anything! Let us share a secret, we are a small team hence have a minimal number of hours to give to this cause. To keep the quality of deliverable maintained we take only limited numbers. If you think you are the one who deserves our help, sign up to be in our favorite FREE services queue and we will get back to you!
N square has been very helpful and patient in supporting me in the last year, creating multiple websites for my business needs, making changes and suggesting thoroughly researched options. They're reliable professional and will definitely remain my goto for all things web design, branding and small business support related!

I have been using their services since a year now for my company's social media management and I'm extremely satisfied with the level of hard work they have put into my business. The team is professional in terms of designing and has always helped grow my social media presence. I'm glad I referred your company to a few friends and have received positive feedback too. Thank you and keep it up!

I have gotten two web development and design projects successfully handled by Shumaila and her team. I vouch for her attention to details, project organization and execution skills, her technical acumen which is a backbone of web development and most importantly how she owns each project like her own. I appreciated how she extended her honest and valuable feedback throughout the process and I was able to kickstart my projects with superb websites. She is your person if you want web development, design, and digital content handled!

They're definitely the best at what they do! They made my website and I'm super satisfied with what they made! They went above and beyond to cater to all my needs and also recommended apps that made it user friendly.

I got a very personalized and professional service for my website. They had been thorough in requirements gathering and provided very good after sales support.

Anyone who is looking for quality and creativity, I would highly recommend Shumaila.

Word - Organized and Dedicated define n-sqaure.co

Team n square, since the start till the end kept on informing and updating about the progress and work. They are very keen to provide you exactly what's requested and required. Would definitely recommend them to the one looking for website solution.

Worked with N Square for over a year, they're professional and provide almost all services related to web design and digital technology, it's been a great experience.

I signed up for a yearly package with n-square for social media marketing and management. Really good decision, Shumaila has great capability to quickly capture the essence and then develop well defined content calendars. The team has always been well organized and ahead of schedule. All of this is easily being managed through asana which is quite helpful.

A highly dedicated and dependable team we trust for all our technology requirements. They've been very thorough in assessing our requirements and delivering on a budget.

We have worked with n-square.co on multiple projects and are very satisfied with their service and professionalism.

I highly recommend N square's services, have been using their services for the last two years and I can say that they are very professional in their work and have all the technical skills needed to build your digital presence! They always put their 100% in everything they do and it reflects in their work!